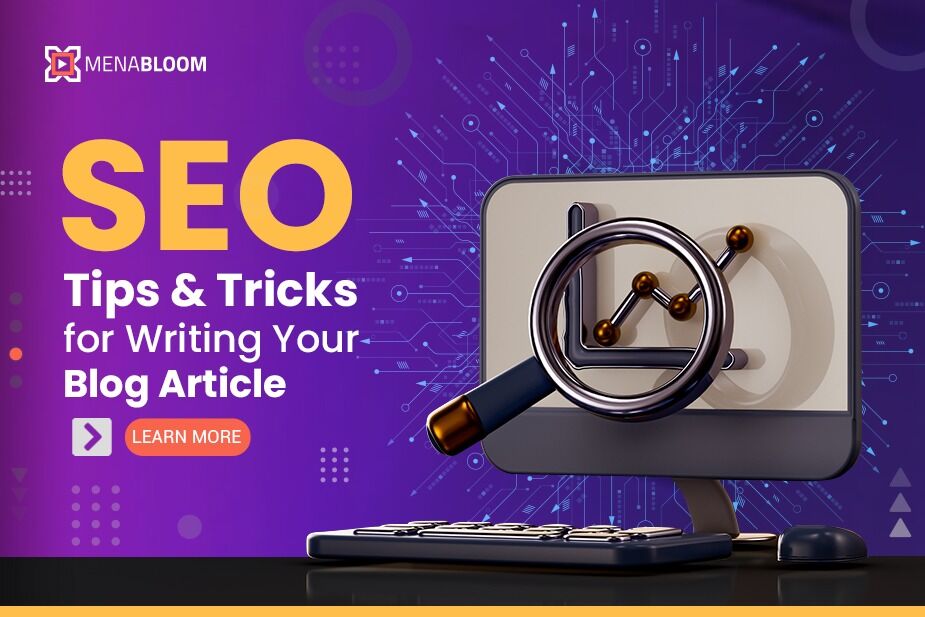 SEO refers to "Search Engine Optimization", which is necessary because it makes your website more visible, which means more traffic and more opportunities to convert prospects into clients or customers. SEO consists of multiple elements, and knowing what they are and how they work is the key to realizing why SEO is so important. Check out MENABloom's guidelines to reach optimal ranking.
What Is SEO?
In the digital marketing field and web development industry, SEO, or "search engine optimization" plays a vital role in supporting your business, as it's responsible for improving your website to help it get a higher rank in search engine results pages (SERPs) by increasing its visibility when people search for products or services that are similar to the ones you offer or related to them in the different search engines such as Google, Yahoo, and Bing, with the purpose of getting traffic from the editorial content written on it.
How Does SEO Work?
They say if you want to hide a dead body, hide it on Google's second search page because studies prove that 75% of internet users don't scroll past the first page on Google. Actually, this saying simply describes the core idea of SEO!
The mission of SEO is to optimize the website for the hundreds of factors that the search engines use to generate search results, besides getting these factors crawled and indexed.
Briefly, the search engine optimization specialists develop ranking factors and use them to define the most relevant content according to the search engines, targeting it to make it visible in the first results.
How Should You Use SEO?
1- Use the right keywords
The first step to enhancing your content's visibility on Google is to use the words that are highly searched, and there are many tools that can make you know these words easily, like Google Keyword Planner.


It finds high-volume terms and phrases that relate to your primary keyword.
2- Focus on headings
Your main headline should be attractive and contain keywords to achieve good performance on search engines, and you should add these keywords to your headings too, taking into consideration that the keyword does not need to be in every single heading.
For example; if your content's main keyword is influencer marketing, your headline can be: Effective Tips For Influencer Marketing Success.
3- Organize your paragraphs
In all cases, the content shouldn't be less than 300 words, not to be superficial, but even when you write long POC, you have to distribute them into short and organized paragraphs, which are not more than 3 lines, that support your content in a good way and make it easier to be read too.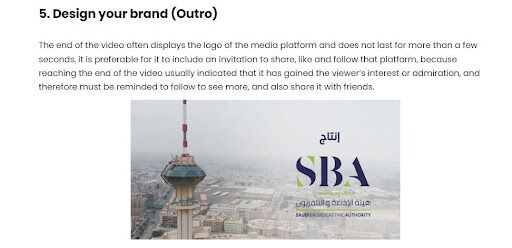 An example for the organization tip from 5 Tips to Unify Your Creative Visual Identity For Your Social Media Videos blog includes a heading and a short paragraph.
4- Create original content
There are many pieces of content about the same topic on search engines, so if you want to appear among the first results, you have to offer your audience new aspects and angles in a good writing style to encourage them to read your POC till the end.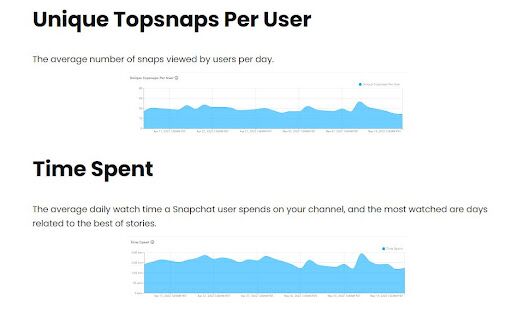 For example: MENABloom published a blog to help you analyze your Snapchat's channel data in steps with detailed guidelines and illustrative screenshots to differ from other blogs about the same topic.
5- Optimize meta description
The meta description must be between 138-148 characters and include 1-2 keywords, and it plays a vital role in the SEO process, as a great meta description is one that pushes the user to click and read the whole content. When you write the meta description, use a few words that summaries what the audience expects to read on the page.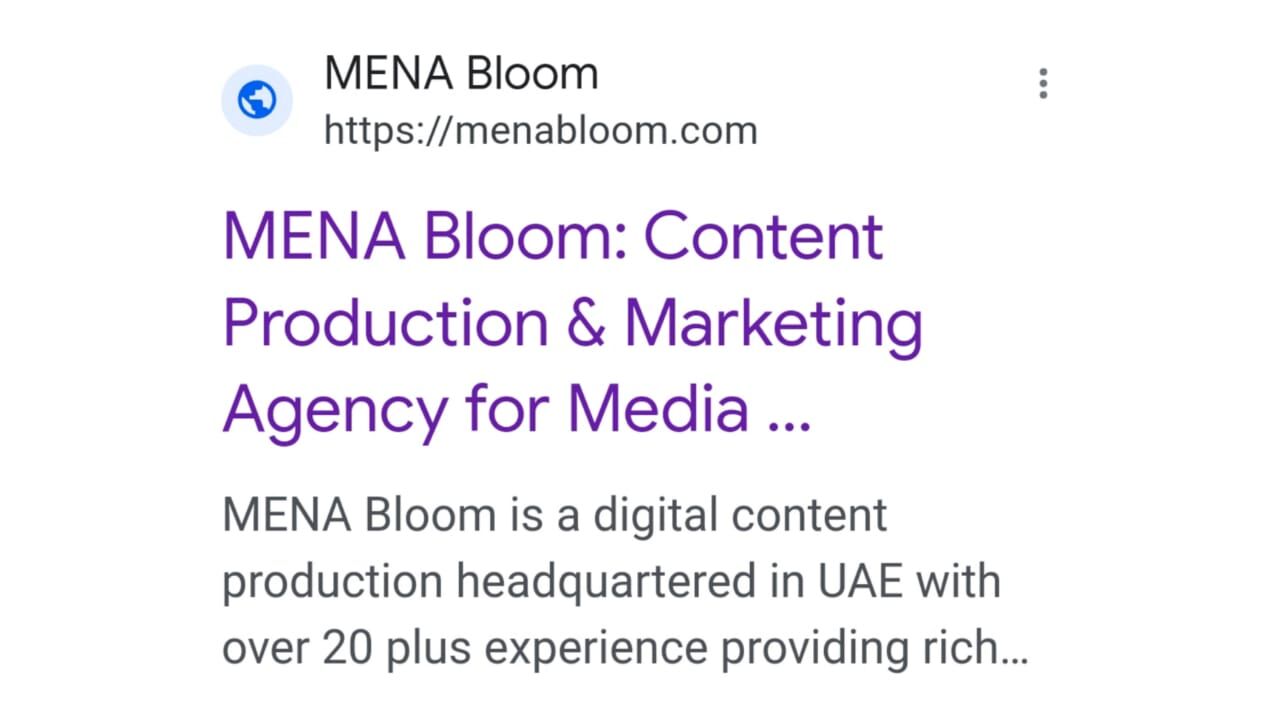 When you search for MENABloom on Google, the meta description showcases our main mission in a short paragraph.
6- Add links
Don't forget to include links in your content to improve the usability of the website; you can include internal links to related topics on your own website or external links to well-known and powerful websites.
Here are some instructions to make use of the links as much as possible:
Make the links relevant

Link to reputable sources

Add helpful links

Make the external links open in different tabs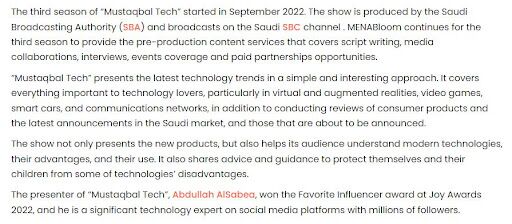 The orange words in the paragraph refer to attached relevant links in a blog announcing season 3 of Mustaqbal Tech Show.
7- Attach visuals
A picture is worth a thousand words, so clarify your content visually by adding special photos, videos, and creative designs with good descriptions that tell what's included in them, and it's recommended to brief the long segments with infographics that can be attached to the content.
For example, You can optimize with tags and descriptions through:
Adding the keyword in the alt text.

Adding the keyword into the image title.

Adding the keyword into the caption.

Describing your image in the metadata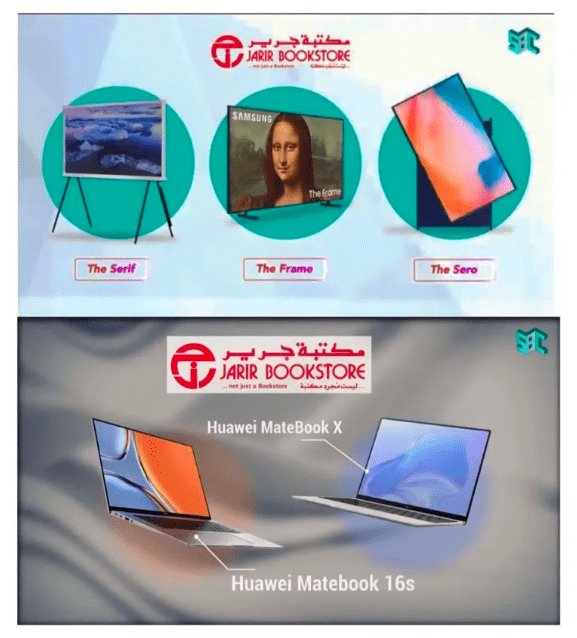 Image from case study summarizes the collaboration between MENABloom and Jarir Bookstore.
8- Use a linguistic checker
If your content includes many mistakes, it's hard to reach the first page, so before publishing, you have to make sure that you don't have any grammatical, spelling, or punctuation mistakes, and there are many online tools that can help you in that regard, For example: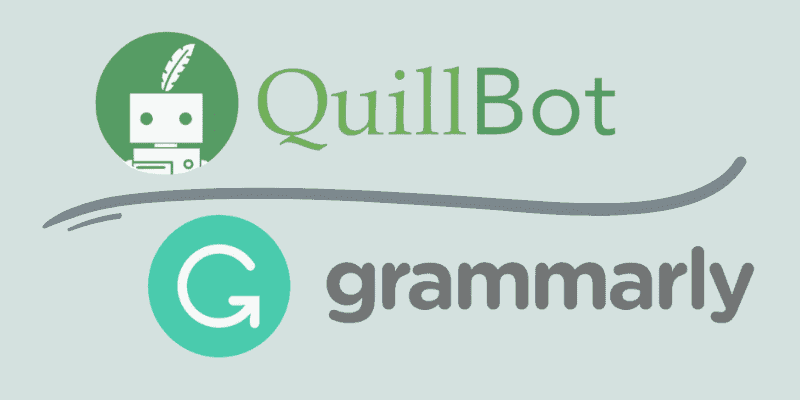 These tools assist you in ensuring that your content is well-written so that it performs well in search engines.
9- Do credibility assurance
Spreading wrong or low-credible information doesn't affect only your audience's trust, but also makes search engines mark your content with bad ranks, so make sure that all the details you share with your audience are right and rely on trusted sources that only tell the truth.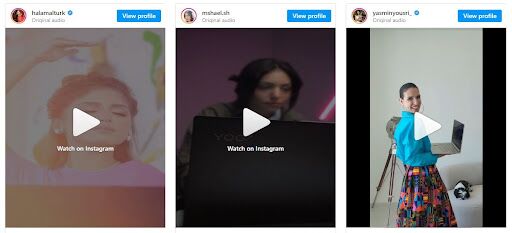 Samples were attached to a blog that showcased an influencer marketing campaign that MENABloom worked on for Lenovo to increase credibility through actual videos from the campaign.
10- Identify competitors
No time spent doing competitor analysis is wasted time, so one of the quickest ways to get started with keyword research is to find the terms that are working for your competitors to identify those who are competing in the same space as you are and how your visibility compares. In this regard, you can use many tools, such as: Semrush, SE Ranking, BuzzSumo.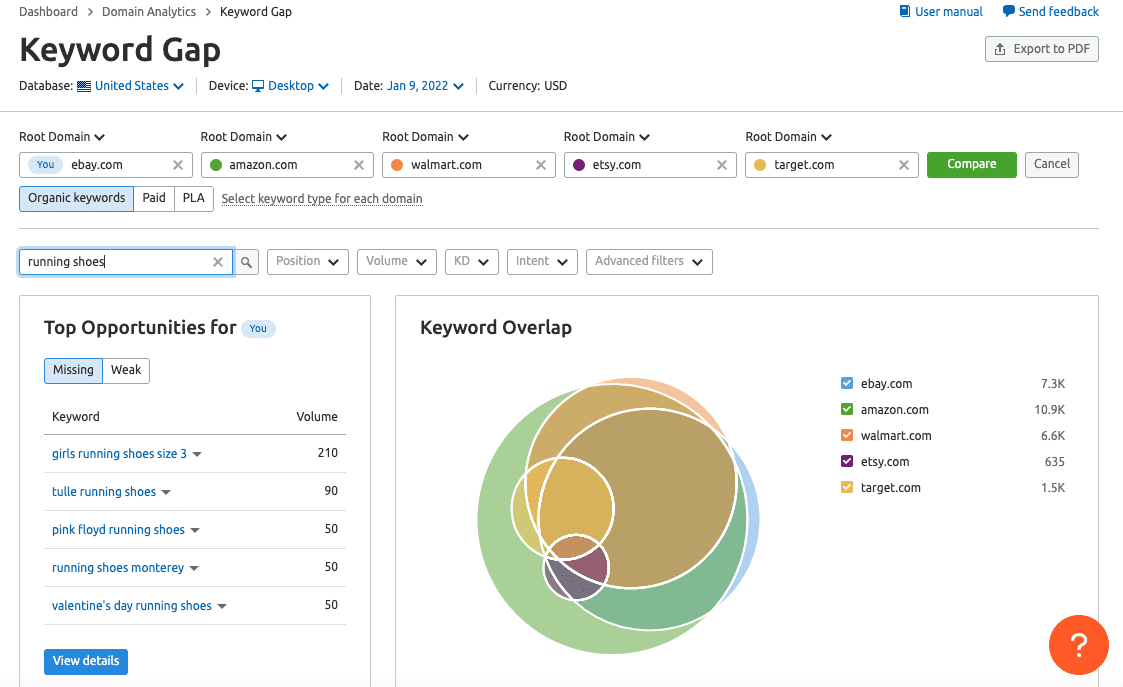 An image for SEO competitive analysis by Semrush.
Is SEO Beneficial to Your Business?
There is no doubt that SEO can propel your business a thousand miles, especially if it is online, as it builds long-term brand awareness and increases the number of your clients and customers by reaching more of them over time. Taking into consideration that SEO costs almost nothing compared to the other paid ads, it's 5.66 times more effective than them!
In addition, SEO boosts your credibility by making your site rank highly in search engine results as a high-quality and trustworthy website, which will definitely increase your income as a result of the increased sales and achievements.
Moreover, SEO can help you measure your ROI rate accurately so that you can plan correctly for your business's next steps, as it provides you with quantitative results through tracking changes in rankings, conversions, and website traffic by using Google Analytics platforms.
As we're always here to help you because you're our success partner, MENABloom presented to you an unparalleled opportunity to make you aware of everything related to SEO through a simple and special guideline.